The Hotfoil-EHS 6-WAY power console incorporates a 1.5" tubular frame with a 1-1/4" tubed handle and kick bar. The entire assembly is fully welded, ground down, polished and then powder coated black. The front and back panels are 14 guage steel and the side and roof panels are 16 guage. All panels are powder coated. Beneath the lid is a removable support system to prevent the lid from bending, and also to allow supporting a recorder.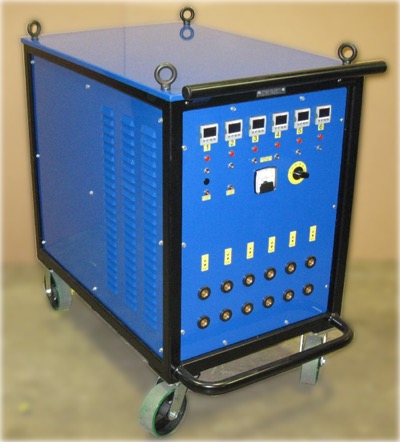 6 Way with Ramp
6WPCR/A-73KVA
6 Way Power console with:
(6) EHS 3216 Ramp Controllers with (1) Circuit Breaker
(6) Albright Contactors
(6) Heater on lights
(3) T/C Locations / Circuit
(1) 6 inch Instrument cooling fan
(2) 120 volt power outlets
(1) Ammeter & 6-position switch
Console will be Pre-wired & Tested
Part # 21115R
Power Consoles "Fully Automatic"
6WPCFA/A-73KVA
6 Way Power console with:
(1) EHS 3216 Master
(5) EHS 3216 Slave Controllers
Part # 21115FA