HOTFOIL-EHS has the production capability to manufacture up to four hundred type CMH ceramic mat heaters per day using their seven, 24 ft., stainless steel heater tables. Demand is high and Hotfoil has no issue with moving to a six day work schudule to meet customer needs.
Using only the highest grade 95% cintered alumina ceramics and 80/20 nickle chromium alloy wire provides the highest quality heaters in the industry, and accordingly, earns Hotfoil the top spot as leader in the industry.
CMH Literature
80 Volt Heater Literature
Coldweld Literature
EHS manufactures ceramic mat heaters in a wide variety of voltages, sizes and shapes. All of the following voltages are available for EHS ceramic mat heaters: 25, 30, 40, 60, 70, 80, 120, 240, 277, 300, 330, 380, 400, 440, 480, 550, 575 and 600 volt.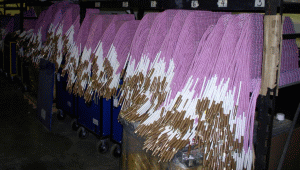 Hotfoil-EHS gladly will design and manufacture special shapes and sizes to fit any Application.
All proudly made in Hamilton, NJ, USA.